How we saw Identity Week 2020
2020.12.08
Zsolt Fábián tells us about his virtual exhibition experience and also about launching Osmond, our new passport reader.
This year, as many events, Security Document World was also held online, with two other exhibitions, formed into a large virtual event called Identity Week. Being an exhibitor there for many years, it was a brand new experience for us – and a special way to launch our new passport reader. We asked Zsolt Fábián, sales manager in our ID Reader team to tell us his experience.
[AR] In 2020, handshakes were replaced by virtual handshakes. Did it help your presence at the show, or was it a disadvantage?
[Zsolt] The show was great, and I think the organizers did their best to transform the classic show to an online event. It was definitely an advantage that you could easily join the presentations, switching between them with just a few clicks and without the need of changing your physical location. There were a lot of exciting topics brought to the audience, such as the challenges of digital identity, using biometrics at the borders or the European Entry/Exit System which is also covered on our corporate blog, for example.
As for all the participants, the virtual networking was a new challenge, as we all got used to demonstrating our scanners face to face at the show. We managed to bring this experience online, as much as it is possible, but of course it cannot be exactly the same. However, we liked the function that we could invite people to our virtual booth, so the platform had some great features.
[AR] Who was present at the exhibition?
[Zsolt] SDW is a very focused event – covering everything that is related to document security: anti-fraud feature developers, printers, inks, holograms, players of ID document verification and all connecting technologies. It was great to catch up with existing partners and also to explore new cooperation possibilities.
[AR] If you could decide… should it be online next year, or back to the classic?
[Zsolt] Back to the classic version, definitely. It was an efficient temporary solution but we all miss face-to-face meetings. I look forward to meeting our partners and clients again, and hope the global situation will allow it.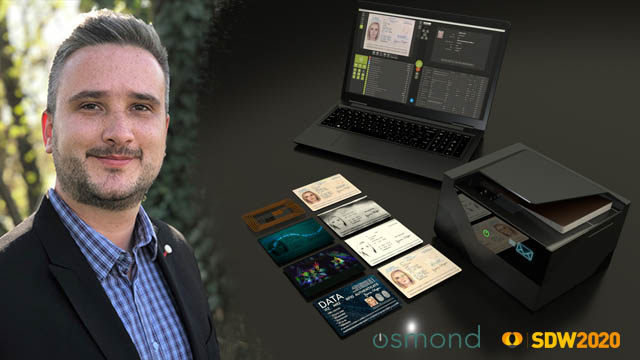 [AR] There's another reason why this event was special: we launched our next-generation passport reader, Osmond. How was the reception?
[Zsolt] This innovation has a list of features that simply cannot be ignored – and our customers / potential new clients have the same opinion. By only its design, Osmond stands out in the crowd, fortunately, this was recognized also in the online space. (But I can tell you, it's even better if you have it on your desktop).
[AR] Can you tell us some more about this product? It can read and verify ID documents, but what makes it special?
[Zsolt] First of all, it has some new features that other vendors do not, such as the oblique light. This is an illumination from a low angle and it helps checking tactile / embossed security features – a technology that is usually built into 2nd line document examination equipment and not into compact passport readers. Also, the unit has a display which makes the scanner usage quite easy, even for those who do not have experience. This is also not very common amongst such devices.
Another great feature is the speed. It surprised me when I did the first scans – as I've never seen any ID verification technology with such speed, it is truly stunning.
[AR] If a customer is interested in testing it, what are the options?
[Zsolt] Osmond will go into production in February, 2021, but there is already a preorder option for it. If you preorder it until 01.25.2021 we attach our professional ID verification software for free – and also grant free worldwide delivery. This way, customers have a nice option to test the brand new scanner in Q1, 2021. We will definitely keep our customers updated. 🙂
Preorder before 01.25.2021 to get our professional ID verification software for FREE
Discover Osmond
To get in touch with Zsolt, visit his corporate profile.