Osmond
Passport Reader and ID Scanner
Highlighted Features

All-in-One Device
Automatic document detection and scanning.
End user-friendly operation.

Fast data reading and fake detection
Reads and verifies passports, IDs, driving licenses and other travel documents automatically.

Easy Integration
SDK with API documentation and sample code. Ready-to-use test programs with GUI.

Fits Any System
USB version to use with PC, standalone ethernet version for use with any system.

Long-term Support
With regular firmware releases. 3 years warranty.

Proven on the Field
Used with success in many systems worldwide, including international airports, borders, banks and more.
Compare Models
Basic Parameters
More Parameters
| | Osmond L | Osmond R | Osmond N |
| --- | --- | --- | --- |
| Full-page scanning (up to ID3/TD3 passport size) | | | |
| White, infra-red and ultra-violet illumination | | | |
| | | | |
| Automatic document detection, rotation & cropping | | | |
| Visual Inspection Zone reading (VIZ)* | | | |
| | | | |
| Advanced optical document authentication* | | | |
| Built-in RFID module (contactless) | | | |
| Automatic face photo comparision (printed vs chip) | | | |
| Automatic MRZ comparision (printed vs chip) | | | |
| WS/WSS, FTP/FTPS, SFTP, SMB, SMTP, WebDav (upload) | | | |
| | Osmond L | Osmond R | Osmond N |
| --- | --- | --- | --- |
| Full-page scanning (up to ID3/TD3 passport size) | | | |
| White, infra-red and ultra-violet illumination | | | |
| Oblique (edge) illumination | | | |
| | | | |
| OVD/OVI visualization (e.g. Hologram) | | | |
| | | | |
| Automatic document detection, rotation & cropping | | | |
| Glare-free images (reflection removal) | | | |
| 1D and 2D barcode (QR and more) reading | | | |
| Machine Readable Zone (MRZ) reading | | | |
| Visual Inspection Zone reading (VIZ)* | | | |
| | | | |
| Security paper check (dull paper) | | | |
| | | | |
| Advanced optical document authentication* | | | |
| Built-in RFID module (contactless) | | | |
| Automatic RFID data extraction and authentication | | | |
| Automatic face photo comparision (printed vs chip) | | | |
| Automatic MRZ comparision (printed vs chip) | | | |
| Built-in SmartCard module (contact) in USB mode | | | |
| Windows, Linux, Raspberry OS (in USB mode) | | | |
| Operating system independent in network mode | | | |
| | | | |
| Two operation modes (USB or network) | | | |
| | | | |
| Power over ethernet port (PoE+) | | | |
| USB 2.0 / 3.1 Gen1 interface | | | |
| | | | |
| SDK (API) with sample codes | | | |
| WS/WSS, FTP/FTPS, SFTP, SMB, SMTP, WebDav (upload) | | | |
Full-page scanning (up to ID3/TD3 passport size)
White, infra-red and ultra-violet illumination
Oblique (edge) illumination
OVD/OVI visualization (e.g. Hologram)
Automatic document detection, rotation & cropping
Glare-free images (reflection removal)
1D and 2D barcode (QR and more) reading
Machine Readable Zone (MRZ) reading
Visual Inspection Zone reading (VIZ)*
Security paper check (dull paper)
Advanced optical document authentication*
Built-in RFID module (contactless)
Automatic RFID data extraction and authentication
Automatic face photo comparision (printed vs chip)
Automatic MRZ comparision (printed vs chip)
Built-in SmartCard module (contact) in USB mode
Windows, Linux, Raspberry OS (in USB mode)
Operating system independent in network mode
Two operation modes (USB or network)
Power over ethernet port (PoE+)
USB 2.0 / 3.1 Gen1 interface
SDK (API) with sample codes
WS/WSS, FTP/FTPS, SFTP, SMB, SMTP, WebDav (upload)
Full-page scanning (up to ID3/TD3 passport size)
White, infra-red and ultra-violet illumination
Oblique (edge) illumination
OVD/OVI visualization (e.g. Hologram)
Automatic document detection, rotation & cropping
Glare-free images (reflection removal)
1D and 2D barcode (QR and more) reading
Machine Readable Zone (MRZ) reading
Visual Inspection Zone reading (VIZ)*
Security paper check (dull paper)
Advanced optical document authentication*
Built-in RFID module (contactless)
Automatic RFID data extraction and authentication
Automatic face photo comparision (printed vs chip)
Automatic MRZ comparision (printed vs chip)
Built-in SmartCard module (contact) in USB mode
Windows, Linux, Raspberry OS (in USB mode)
Operating system independent in network mode
Two operation modes (USB or network)
Power over ethernet port (PoE+)
USB 2.0 / 3.1 Gen1 interface
SDK (API) with sample codes
WS/WSS, FTP/FTPS, SFTP, SMB, SMTP, WebDav (upload)
Full-page scanning (up to ID3/TD3 passport size)
White, infra-red and ultra-violet illumination
Oblique (edge) illumination
OVD/OVI visualization (e.g. Hologram)
Automatic document detection, rotation & cropping
Glare-free images (reflection removal)
1D and 2D barcode (QR and more) reading
Machine Readable Zone (MRZ) reading
Visual Inspection Zone reading (VIZ)*
Security paper check (dull paper)
Advanced optical document authentication*
Built-in RFID module (contactless)
Automatic RFID data extraction and authentication
Automatic face photo comparision (printed vs chip)
Automatic MRZ comparision (printed vs chip)
Built-in SmartCard module (contact) in USB mode
Windows, Linux, Raspberry OS (in USB mode)
Operating system independent in network mode
Two operation modes (USB or network)
Power over ethernet port (PoE+)
USB 2.0 / 3.1 Gen1 interface
SDK (API) with sample codes
WS/WSS, FTP/FTPS, SFTP, SMB, SMTP, WebDav (upload)
Product documentation including install guides, manuals, technical documentation and more
Go to Download Area
Basic Set and Optional Accessories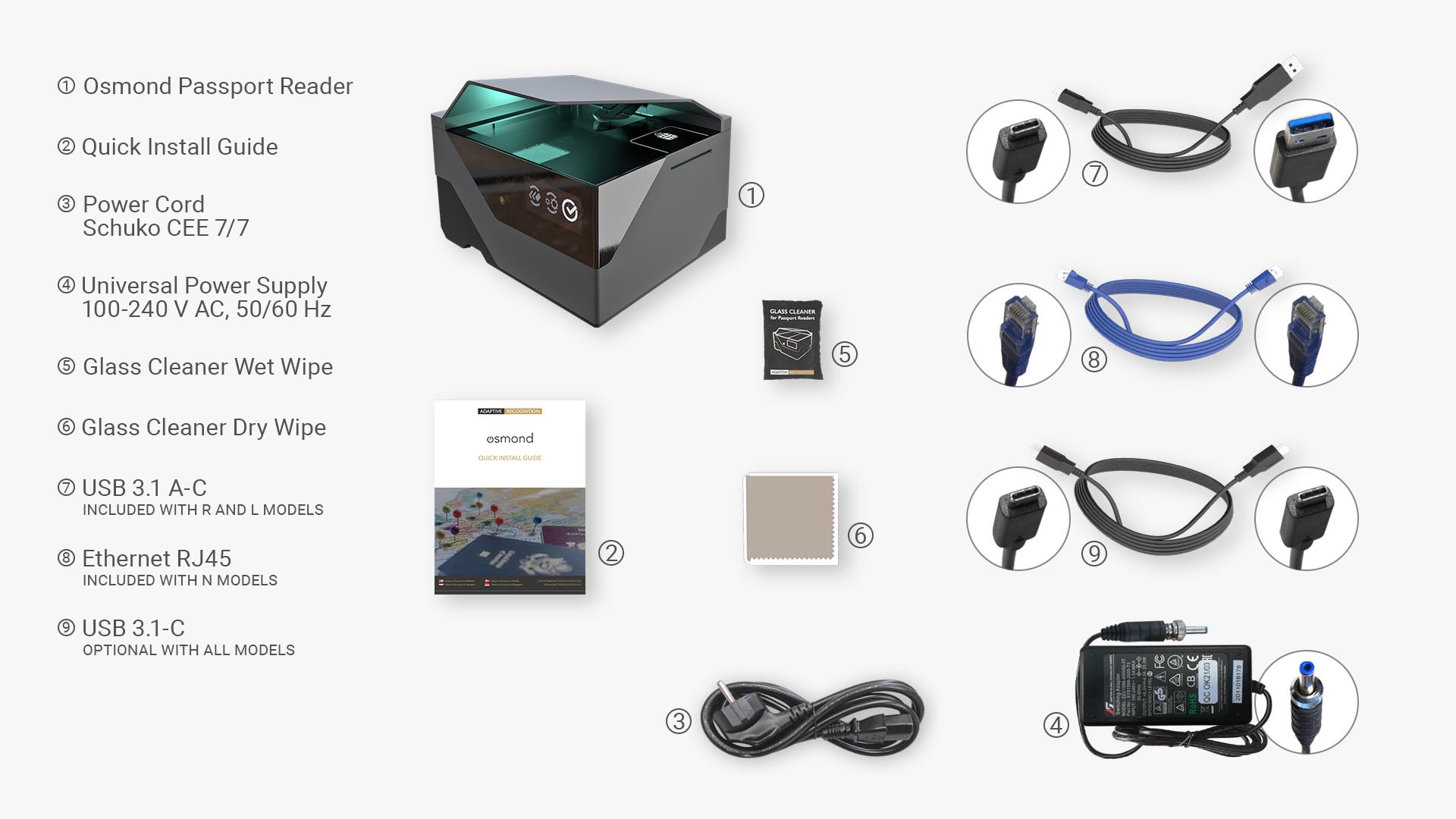 Contact
AR_PRODUCT
Ez a form a termékekhez. Minden terméknél a preferred product type-ot fix értékkel egy hidden mezőben el kell helyezni. Az Aktív form nevek kezdődjenek így: AR_PRODUCT_(product név)
Reference Projects for This Product Category