Adaptive Recognition's enforcement cameras monitor highway emergency lanes in Greece  
The Greek Traffic Police installed a complex system to enable a real time monitoring of emergency lanes on highways in the direction to Athens.
About the Client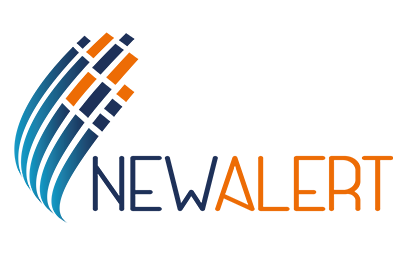 NewAlert is activate in the field of automation and safety for building and transportation projects. The company's experience and the continuous adaptation of new technologies, have contributed to their capability to respond to complex projects. NewAlert provides turn-key solutions for all automation and safety needs, targeting to the highest level of safety and effectiveness.
Emergency lane violations are not uncommon on highways in Greece. To prevent such offenses, the Greek Traffic Police installed a complex system to enable a real time monitoring of emergency lanes on highways in the direction to Athens.
The Challenge 
Greece is no less an exception from traffic violations during congestions than any other country. In case of a traffic jam, drivers are often tempted to move along the emergency lane to get ahead to their destination. However, such violations are detrimental to traffic safety: they exacerbate highway congestion and create unsafe driving conditions.
Not only are emergency lanes interrupted as a result of such practices, but emergency vehicles and road patrollers face obstacles in their emergency responses.
The Technical Challenges
The Greek Traffic Police Olympia Odos wanted to install enforcement cameras on Greece's motorways. They needed a complex system which ensured real-time monitoring of emergency lane violations on highways and was able to log violations automatically.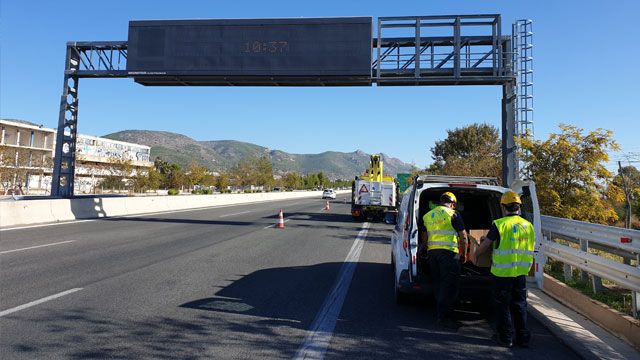 The logs could then be printed by the police and sent to violators.
The system had to be tested after its installation which was scheduled for spring 2020 when many vehicles were expected on the highways during the Easter vacations. However, the testing of the system had to be delayed because of the coronavirus lockdown.
The Solution
The Traffic Police contacted the system integrator NewAlert ICT Systems about its request. NewAlert agreed to co-operate with the client, even if the request was beyond its contractual obligations.
The integrator partner installed a pair of emergency lane supervision and enforcement cameras in the existing gantries in the direction to Athens, in N. Peramos and Kinetta I/C and a monitoring workstation in the Traffic Police building.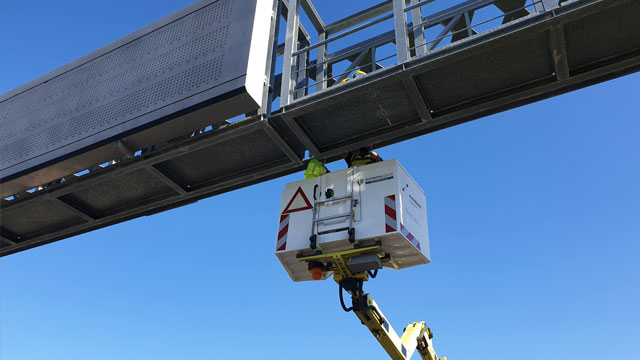 The installation of the enforcement cameras was communicated to the public and was also covered in the media. The fact that the Traffic Policy has taken steps to enforce traffic violations served as a deterrent. Drivers are much less likely to enter emergency lanes on highways if they know they are being monitored.
Thus, the new system increased safety and ensured an overall better level of service for highway users. This was also reflected in the fall in the number of user complaints in association with emergency lane violations.
Adaptive Recognition Solutions used
Key elements of the system are ANPR cameras manufactured by Adaptive Recognition. EnforceCAM cameras used for traffic analytics and SmartCAM HDx cameras were part of Olympia Odos' system. SmartCAM HDx cameras are powered by the industry-leading Carmen ANPR Software and are equipped with a quad-core CPU. The device, after capturing an image, attaches the ANPR data to the image and sends it to the central database. SmartCAM cameras have the feature of infrared lighting, which ensures outstanding ANPR recognition even under suboptimal light conditions. These cameras are weatherproof and durable.
SmartCAM cameras have been discontinued recently and replaced by Vidar ANPR cameras. Vidar ANPR cameras are so smart that they automatically tune themselves for the best settings to optimize image capturing and ANPR recognition. They do this by measuring distance, analyzing their environment and recommending a tilt angle. With this functionality, set-up is a breeze.

Other capabilities of the camera include built-in laser for vehicle detection, a dual optic system for multi-purpose imaging, license plate recognition, make, model, and color identification, and even speed measurement. Vidar makes it all possible in the most innovative way we have ever designed.
Know more
Monitoring highway emergency lanes is one of the application areas covered by the modular design of Adaptive Recognition's VIDAR ANPR camera.
However, thanks to its versatility and advanced features, Vidar offers solutions for many other use-cases as well from the recognition of hazardous material signs to image-based vehicle axle identification and categorization. Other models are capable of passenger counting.
If you would like to discover the range of use-cases of the Vidar product family, visit its dedicated category page →