Passport Readers: USB or Network?
A guide to pick the right scanner for your project
When you prepare a project, you have to consider all aspects. Technical compliance, compatibility, expenses, delivery deadlines are just a few. When working on an identity management project, there is a multitude of ID document readers to select from. Which one is your best choice? Do you need a USB scanner or a network scanner? This guide is going to highlight technological differences and help you decide which passport reader to choose, depending on the nature of your project.
Today's passport readers come in 2 kinds:
conventional scanners, which capture images of the ID and forward these images to a computer via a USB connection;
all-in-one scanners, which process images on-board – and some models also forward the results via the network.
As a rule, the available functions do not depend on where image processing is done – tech differences, however, are many. Make sure to pick the right scanner as early as the planning phase.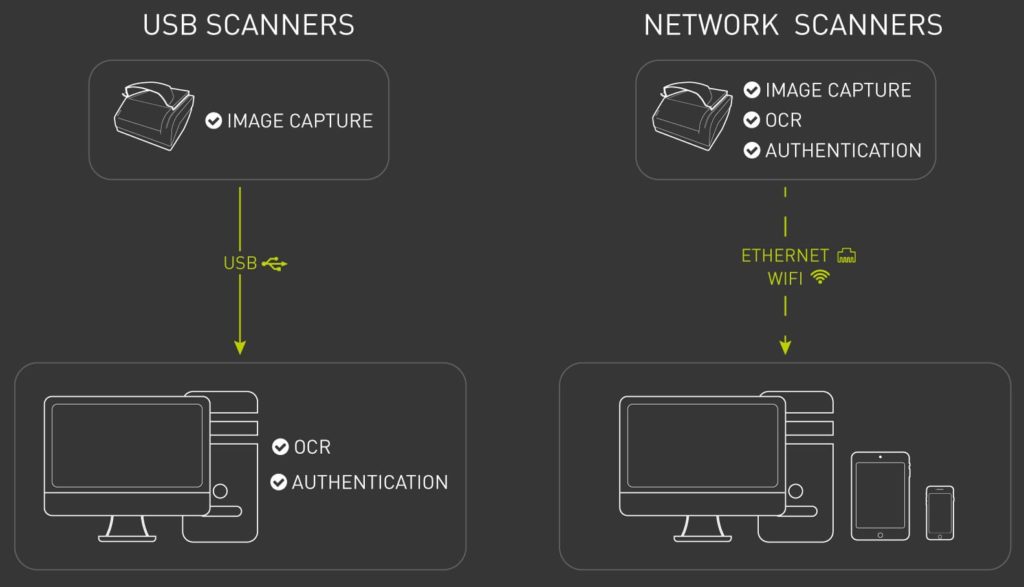 While USB scanners capture images and send them to the PC for data processing, a scanner with onboard processing performs all these three tasks on its own. See the communication channels above.
IT Security Policies
Your best choice of passport readers depends a lot on the end-user system. There are often strict IT regulations to observe. For instance, some corporate policies restrict the use of peripherals connected via a USB port, and they also restrict the installation of drivers on client computers. In this case, an all-in-one ID scanner is your perfect choice. Needing no PC connection, all-in-one ID scanners send results directly to a remote server with convenient web access.
Thin Clients
Likewise, all-in-one scanners could be your preferred choice for thin clients, where no sufficient processing capacity is available on the client's side. All processes are performed inside the scanner. Produced results are accessible through a desktop computer, thin client, or even a tablet or smartphone.
Shared Usage
In many office environments, archiving or authentication is a high priority. Sometimes – rather than having a scanner next to every single computer – there are systems with 1 or 2 shared scanners in total. This type of usage is easier with an all-in-one scanner. No need for a dedicated computer to receive scanning results, personnel can direct the automatic transfer of results to their own office computer, perhaps by identifying themselves with their own proximity card.
There's more. Continue below to see some other aspects.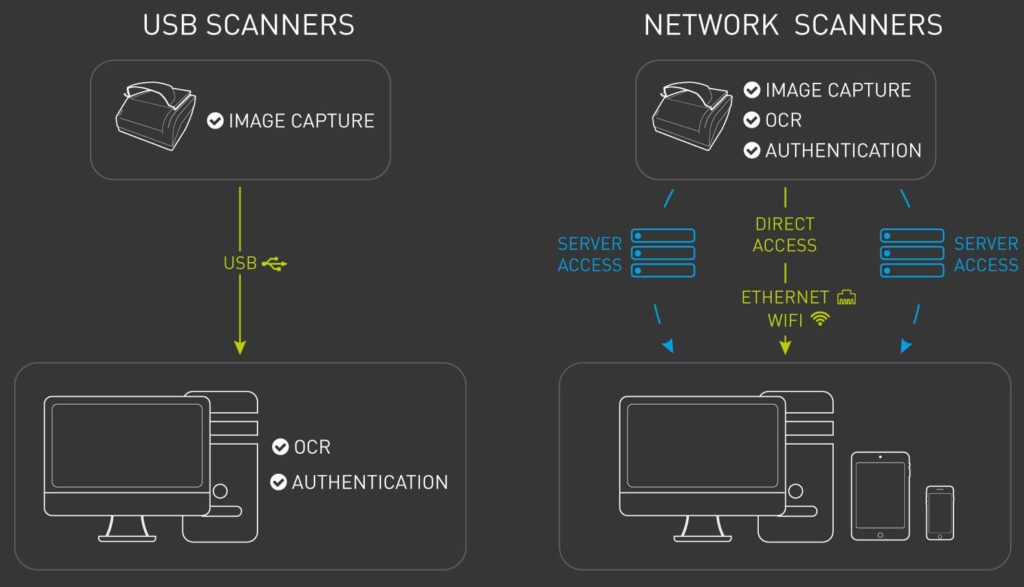 In the case of network scanners, the client can either access the device directly, to have an up-to-date view of what processes are performed, or, alternatively, the system can be programmed for automatic server upload and the client can access all results via this server.
Costs?
Think twice to choose to process inside the scanner if a computer connection is available because you can use this computer to process data. This, of course, may go against other considerations like the IT restrictions described above. In general, integrated processing is more economical than having a separate PC with a monitor, plus all the required software licenses.
Operating Systems Compatibility
The other competitive edge of all-in-one passport readers is multi-platform compatibility: the available operating system is not a limiting factor, as the scanner uses its own internal OS. Results will be displayed on the user's screen, regardless of the operating system in use. No need to worry about Windows or Linux compatibility. All-in-one scanners offer seamless integration and platform-independent functionality.
Speed
If speed is a decisive factor, your best bet is a high-performance computer to process the information. The larger the volume of data, the more processing power is needed. Of course, a simple MRZ reading is fast anyway, but more complex tasks – like RFID reading and in-depth authenticity checks – may cause significant speed differences, even seconds per identity document. Given the current trend of steadily increasing processing power of computing boards, in a few years' time, this will no longer be an issue.
Did you know that Adaptive Recognition offers both types of scanners? Browse our portfolio of USB scanners and our newest product line, network scanners.