Fast and Reliable Access Control at Argentinian Airport Car Parks
Many airports decided to upgrade their existing systems with Adaptive Recognition ANPR cameras and software to accelerate the access control process.
About the Client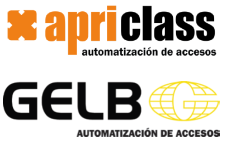 Founded in the late 90s, Apriclass-GELB is an access control system integrator company developing and manufacturing electronic control panels, software, and all kinds of accessories for access automation. Throughout 2019 and 2020, they successfully upgraded the parking access control systems of major Argentine airports in Buenos Aires, Cordoba, Mendoza, Bariloche, etc., with Adaptive Recognition products.
The Challenge
Covering almost 3 million km2 (roughly 1.1 million square miles), Argentina heavily relies on domestic and international air traffic—even during the COVID pandemic. Furthermore, each of the country's 23 provinces and the capital issues its own license plate to residents, meaning different sizes, fonts used, reflectiveness, etc.
The fast and effective identification of all these license plates posed a real challenge for major Argentinian airports, including the Ezeiza International Airport in Buenos Aires, the country's largest international air terminal. A system that can handle the access control to airport parking lots while also identifying different license plates without error was required. Unfortunately, the cameras previously used weren't able to deliver the necessary results, which is why the Apriclass-GELB developer team turned to the products of Adaptive Recognition.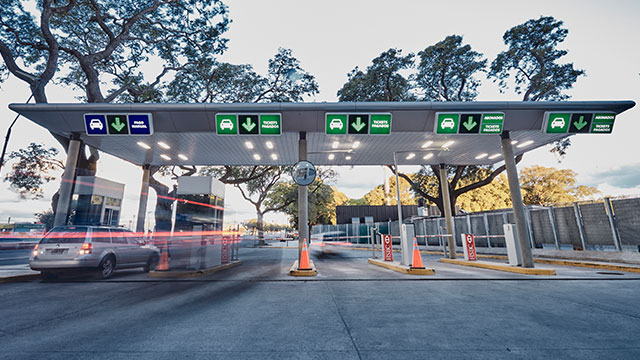 The Solution
Using the advanced access control systems of Apriclass-GELB, passengers of major Argentinian airports who arrive and leave by car can now enjoy a faster and more convenient way of parking around the airport terminals.
Before entering the parking lot, the approaching vehicle's license plate is recognized and captured by ANPR cameras, registering the car's arrival in the system and automatically opening the barrier. Once parking is finished, and the vehicle's owner pays the due fees at one of the payment terminals, the ANPR cameras at the exit recognize the car's license plate. The system then checks if payment has occurred; if yes, then the barrier at the exit is automatically raised, and the vehicle can leave the parking lot.
Aside from providing a more reliable parking experience, Apriclass-GELB also considered users preferring toll payment automation tools such as RFID tags. These tags require users to subscribe to a service and put an intelligent sticker onto the car's windshield, behind the rear-view mirror. The sticker contains an RFID chip that can signal barriers that the vehicle owner uses the chosen payment service, meaning there is no need to stop by the payment terminals. Instead, motorists can enter and exit the parking lot without the need to stop, and their registered cards/invoices are automatically debited.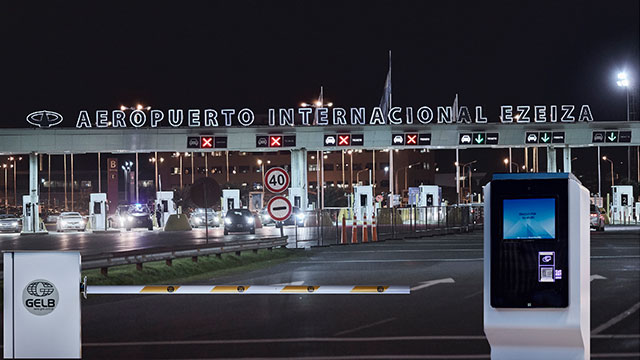 Systems Used
The heart of the whole system deployed by Apriclass-GELB is Adaptive Recognition's industry-leading license plate recognition solution, the Carmen® ANPR/ALPR software. Since it has been fine-tuned for decades, getting better and better with each iteration, Carmen® was an obvious choice for upgrading the Argentinian airport access control systems. Recognizing thousands of different license plate types, regardless of size, color, fonts, and country of origin, is just one of the main benefits of this software. It can also interpret images of subpar quality, meaning that license plate data can be automatically entered into the access control system's database even if the image appears distorted or overexposed.
Another major plus of Carmen® is that it is offered in various forms, from a cloud-based pay-as-you-go service and a plug'n'play software to an SDK that allows unimaginable freedom for integrators. And to make things even better, Carmen® is camera agnostic, meaning that the software works well with access control systems possessing an already existing camera network—even if those cameras aren't designed to perform ANPR-related tasks.
However, at the Argentinian airports, the integrators decided to opt for 120 full-fledged ANPR cameras, namely the ParkIT models of Adaptive Recognition. These cameras were designed explicitly for access control and parking projects. Aside from providing high-quality images, possessing built-in illumination to capture license plates in any condition, and having a weatherproof exterior, ParkIT cameras are also easy to install, thanks to their plug'n'play design.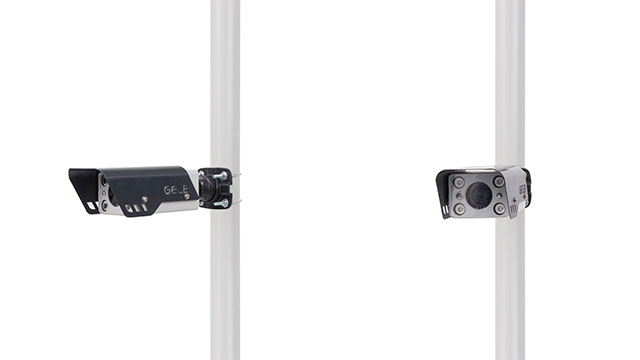 Opening the Gates to Smarter Parking Access Control Systems
The Apriclass-Gelb developer teams working for the airports of Buenos Aires, Cordoba, Mendoza, Bariloche, etc., made the right decision when opting for a more innovative and convenient access control system. The good news is that it is relatively easy replicating the solution Apriclass and GELB used for major Argentinian airports. All it takes is integrating Carmen® into an existing access control system – or building a new one based on a Carmen® product – and automatic license plate recognition won't be a problem anymore. Although Carmen's camera agnosticism allows older cameras to stay in place, it's highly recommended to use proper ANPR cameras for the most optimal results. Thankfully, Adaptive Recognition has a solution for integrators who wish to install ANPR cameras with the access control system in the form of Vidar and Einar.
Granted, of the two cameras, Einar is the better fit for access control and parking projects due to its plug'n'play design and straightforward operation. In addition to that, it also provides memory expandability, video event storage, and the option to capture images in black & white or color. On the other hand, Vidar is a freeflow monitoring camera for high-speed image capturing, built-in laser triggers – even capable of replacing induction loops – and intelligent setups that automatically fine-tune the camera for any situation and condition.
However, the smart version of Vidar has an ace up its sleeve: on-board ANPR. This means that even if there is no Carmen® software integrated into the system, the camera still extracts ANPR-related data directly from the images, which can be forwarded to the appropriate databases for further processing right away. Even Einar can do on-board ANPR processing, but separate software is required to make it capable of that. However, this can be done any time throughout the camera's lifecycle, meaning that you can upgrade your Einars with the ANPR add-on even after having purchased it already.
Know More
If you want to know more details about these types of projects and whether a solution comprising of a member of the Carmen® ANPR/ALPR software family and/or an Adaptive Recognition ANPR/ALPR camera can be adapted to your business needs, you're more than welcome to get in touch with us here →