Carmen® Deals With 40,000 License Plates a Day in Cairo, Egypt
6SS used Adaptive Recognition's industry-leading anpr technology to handle the monitoring of busy roads and highways of the Egyptian capital.
About the Client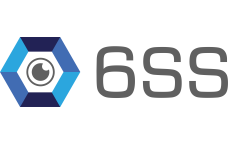 Founded in 2013, 6SS is a developer and provider of security solutions, helping businesses with video analytics, intelligent platforms, plug-ins, and third-party integrations worldwide. With their solution, a major Egyptian client managed to integrate 15 regular IP cameras into an advanced system comprising a straightforward data analytics platform and Adaptive Recognition's industry-leading license plate recognition solution, Carmen® ANPR Image.
The Challenge
Cairo, the capital of Egypt, is notorious for heavy traffic. Traffic monitoring isn't an easy task for authorities. They have to read and recognize the license plates of tens of thousands of vehicles. Also, they have to do it as quickly as possible if traffic flows at a rapid pace. This becomes crucial when authorities want to identify a wanted vehicle and stop its driver from escaping.
In addition to the extreme number of vehicles to be monitored, license plate recognition is further challenged by the wide variety of plates. Egyptian license plates feature small Arabic letters and different background colors to clearly distinguish vehicle types from each other. Moreover, placing plates on vehicles isn't regulated. This means that they can appear in different positions which makes reading and recognizing them quite challenging.
As such, the end-user needed a solution that would confidently deal with Egyptian and other Northern African license plates, capturing their data with utmost accuracy and forwarding them to a centralized location with the relevant statistics included.
The Solution
In the end, the Egyptian client went with a complex system proposed by 6SS, a provider of advanced security solutions. Their solution comprises of the following elements:
15 pre-installed IP cameras used for traffic monitoring/security purposes
Two servers that filter images that do not contain vehicles
A license plate recognition solution that retrieves the necessary data from the images with optical character recognition (OCR) technology
An end-user software for storing all the information.
Thanks to this system, the client resolved multiple problems at once. For one, they got a centralized, fully automated system that can handle information coming in from 15 different IP cameras scattered across the city of Cairo. Since the new system heavily utilizes these cameras, there was no need to install special devices either. Thus, the operator could achieve goals without spending a fortune.
The software client arranging the acquired data in a straightforward manner solves another issue: data storage. The solution of 6SS significantly reduced the size of data without compromising quality. The connected servers store data for a year before deletion. Optionally, users can export information in Excel or PDF format to free up space at any time.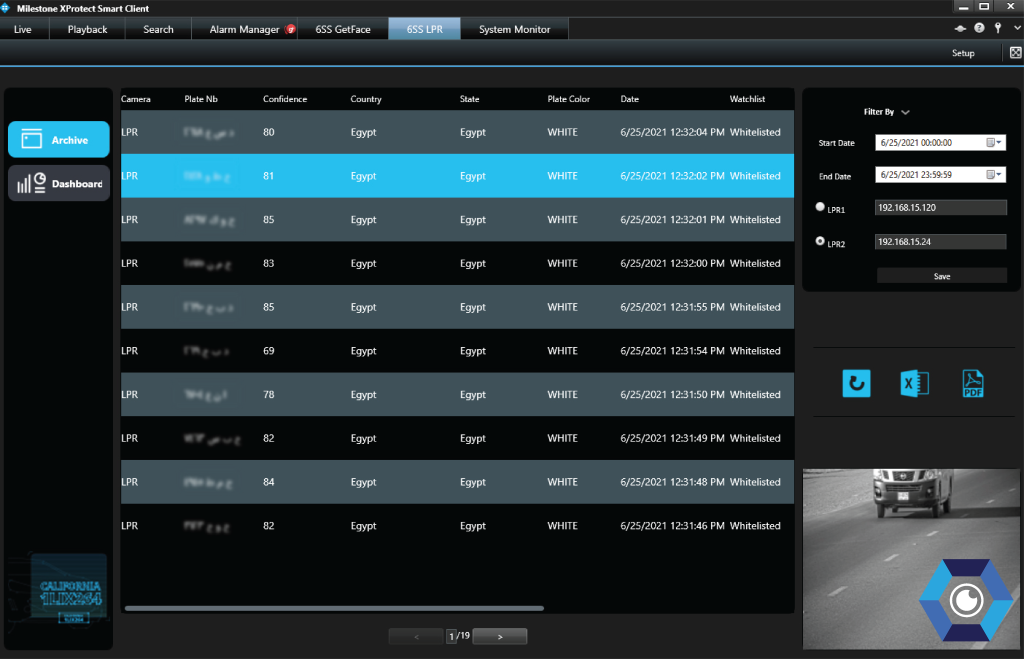 Speaking of exporting data, the servers are connected to the databases of Egyptian law enforcement authorities. As such, the user can easily perform cross-checks for stolen or wanted vehicles. In fact, the end-user receives alerts of any wanted vehicle captured by any of the 15 IP cameras via a built-in alarm, allowing road traffic authorities to take action.
Systems Used
Due to the complexity of reading Arabic license plates, 6SS decided to use Adaptive Recognition's flagship automatic number/license plate recognition (ANPR) product, Carmen® FreeFlow. By being on the OCR market for many decades, Carmen® had the time to develop into a true powerhouse that can deal with any license plate regardless of location. In fact, Carmen® can confidently recognize a total of 36,000+ different license plates—a list that is expanding to this very day.
However, reading and recognizing Egyptian license plates wasn't the only reason why Carmen® was chosen for this project. The software is also fully confident with vehicles coming from countries neighboring Egypt. It can also categorize plates based on the country of origin. Plate color isn't an issue for Carmen® either; the software can easily retrieve license plate characters, regardless of light and weather conditions. More impressively, Carmen® also solves the issues regarding the position of license plates on the vehicle. This way the operators can capture license plates in situations where the naked eye may already fail.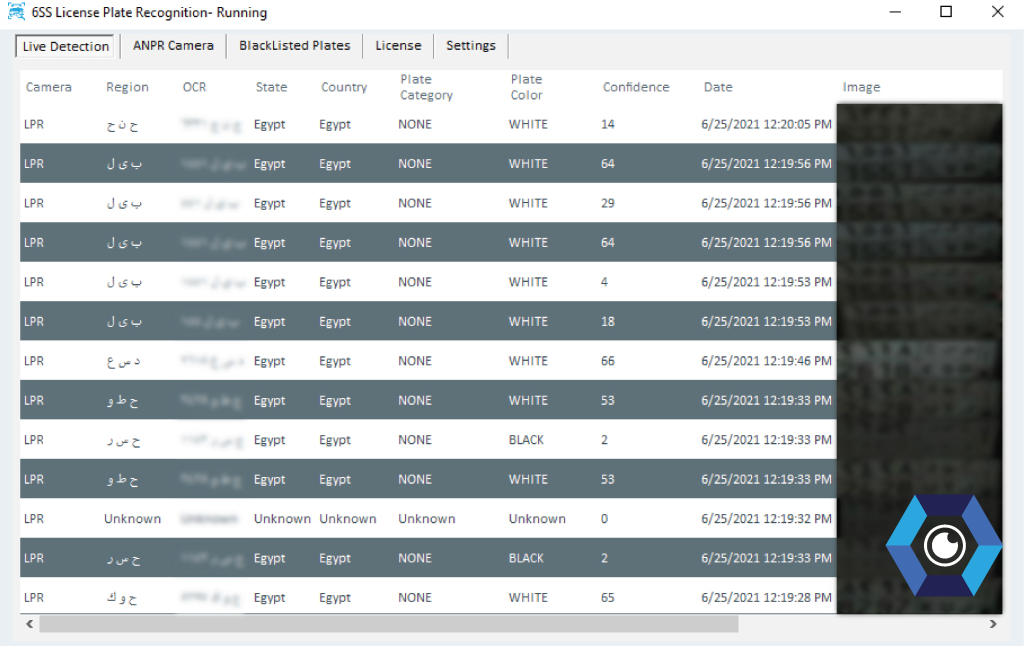 In addition to that, this project perfectly demonstrates two of the key features of Carmen® FreeFlow. Firstly, Carmen® has no problems with reading and recognizing tens of thousands of license plates daily. And secondly, this software is fully camera agnostic, meaning that it can use any images originating from an IP camera.
Client Feedback About 6SS and Carmen® FreeFlow
Feedback from the end-user has been overwhelmingly positive. The system perfectly satisfies customer needs, especially regarding the accuracy of license plate recognition, which has been the main concern before the realization of the project. It also solved additional issues such as the daily management of 40,000 vehicles, centralizing data collection, and direct connection to road traffic authorities. As such, the end-user decided on a future system expansion to cover all governmental facilities and the highways around them.
Products Ideal for Expanding Existing Traffic Monitoring Systems
Thanks to Carmen®'s versatility regarding IP camera brands, you can integrate a new set of cameras into any system similar to what we just presented, whether or not you have already installed those devices. Although Carmen® ANPR Image is fully camera-agnostic, providing utmost confidence and reliability all the time, it best works with industrial cameras developed and manufactured by Adaptive Recognition.
Einar
Governmental facilities are well aware of the importance of monitoring the access and parking of those arriving by car. A regular IP camera might provide good image quality, but lacks smart features like automated barrier control or even advanced ANPR capabilities.
The Einar smart access control and parking camera, in addition to being highly economical—thanks to its plug-n-play design and its support of PoE+ technology—is a powerhouse hidden under a sturdy shell. The camera is also GPIO-compatible, meaning that by request, the camera can open barriers without human interference based on a list of authorized vehicle owners. Moreover, Einar fully supports onboard ANPR powered by Carmen®, whether ordered with the device or as part of a later software upgrade.
All Einar models come with memory expandability, video event storage, and the option to capture images in black & white or color.

Vidar
When it comes to advanced traffic monitoring solutions, Vidar is an undisputed champion. By now, durability has become an industry standard, but Vidar managed to take this to the next level. It can withstand extreme weather conditions—including Saharan heat. Certain models come with dual optics; they allow operators to snap overview images simultaneously with pictures focusing only on the vehicle's license plate.
Thanks to the built-in laser trigger—an industry-first—the camera is triggered exactly the moment its optics detect a vehicle. Smart models of Vidar cameras have a dedicated onboard ANPR processor, powered by Carmen®. This way, the camera performs the necessary license plate recognition before the operators even retrieve images from the device.
Vidar is a long-lasting, economical device designed to tackle any traffic situation, from monitoring highways to performing access control-related tasks.

Know More
Would you like to know more about Carmen®, Vidar, or Einar? Are you interested in how you can utilize them in projects of traffic monitoring, logistics, retail, etc.? Our experts are happy to answer your questions and whether a solution including a member of the Carmen® ANPR/ALPR software family and/or an Adaptive Recognition ANPR/ALPR camera can be adapted to your business needs. Get in touch with us here →