Intellio QuickView PTZ camera
The security team's best friend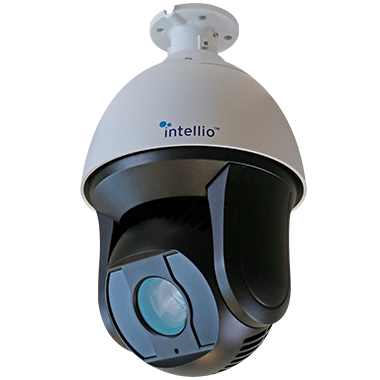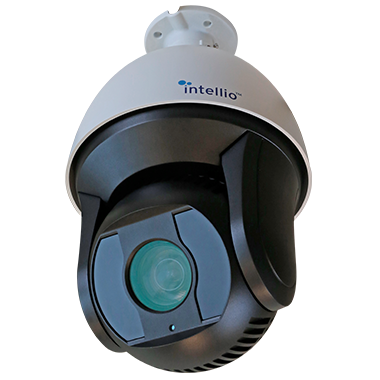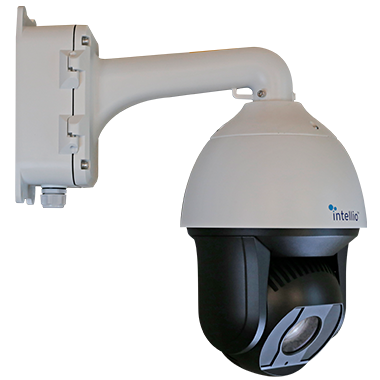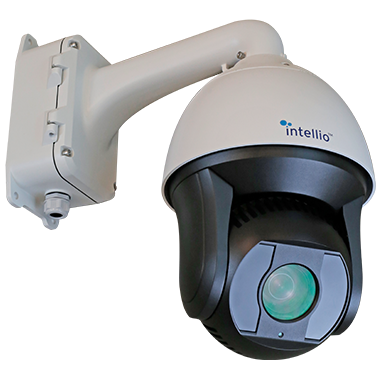 Overview
Intellio's QuickView PTZ camera brings a new era to surveillance. Thanks to its PTZ-characteristics (pan-tilt-zoom), it rotates in 360°, tilts and zooms to enhance the protection, while its object tracking function eases the security staff's workload. It is a truly smart IP camera, equipped with powerful infrared illumination that allows large distance surveillance even during the night hours.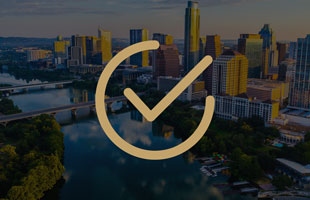 Long distance night vision
The powerful infrared illumination lets you clearly see what is happening even night-time and up to 200 meters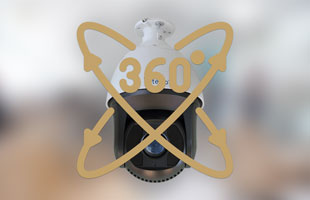 360° surveillance
Thanks to the free pan-tilt-zoom movement, the camera view covers the whole area in all directions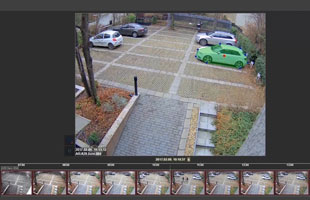 Automatic object tracking
Select a moving object or person and the camera will follow it automatically as long as it is in view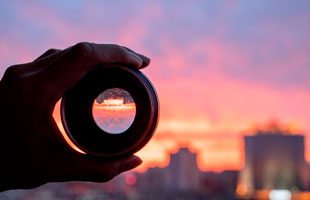 36x optical zoom
See far with QuickView PTZ – a shocking, 36x optical zoom will offer crystal-clear image even in the distance.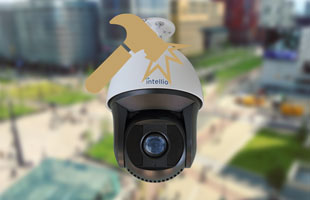 Vandal-proof design
The IP67 & IK10-rated case offers protection against both harsh weather conditions and physical shocks.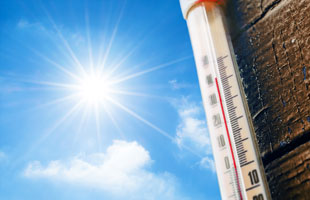 Works in any temperature
From -40°C to 70°C this camera will be a reliable surveillance tool both in the desert and in scandinavia.
Discovering
the PTZ characteristics
A security team can get the most benefits from a PTZ camera, that got its name from the abbreviation of Pan, Tilt & Zoom, referring to its free movement capabilities. Its lens easily pan left and right, tilt up and down or zoom in and out, with easy remote control. It's the ideal choice for a security guard to monitor live video feed on site.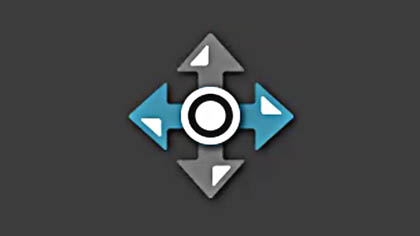 PAN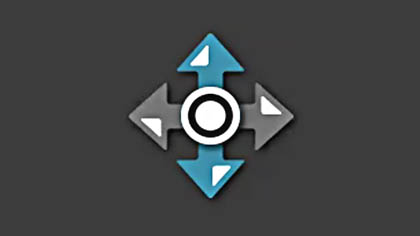 TILT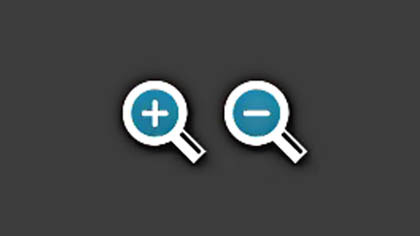 ZOOM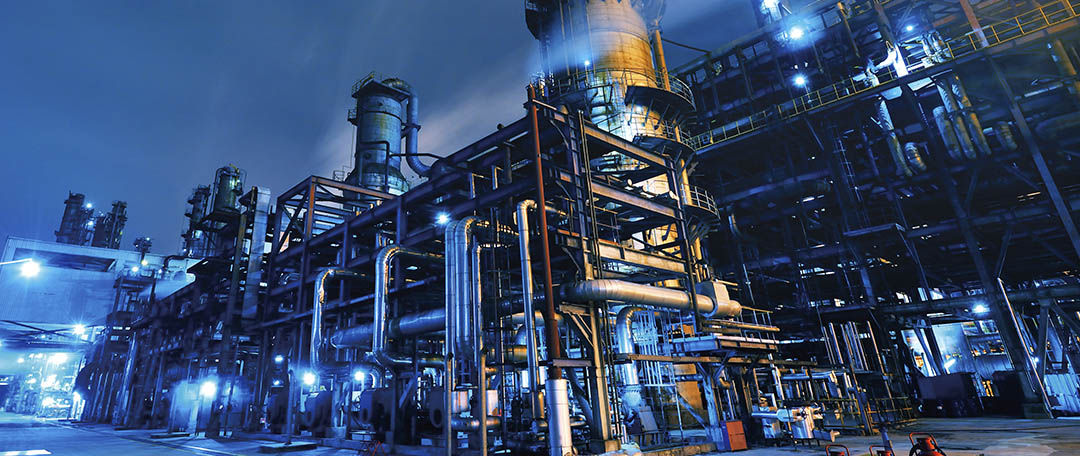 Private & corporate area protection
QuickView PTZ is designed to cover the full neighbourhood of the property, either it is a warehouse, corporate building, factory or other area where security is primary.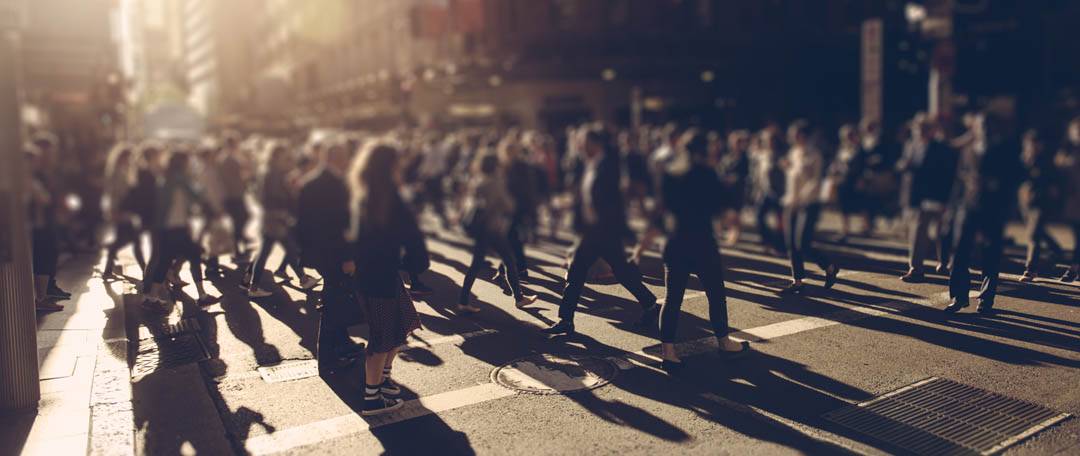 City surveillance
Let it be a small alley or a crowded square, QuickView PTZ serves great for live surveillance. Additionally, you can get extra benefits from the smart analytics that our IVS4 management software offers: it is integrated by default and comes from the same manufacturer.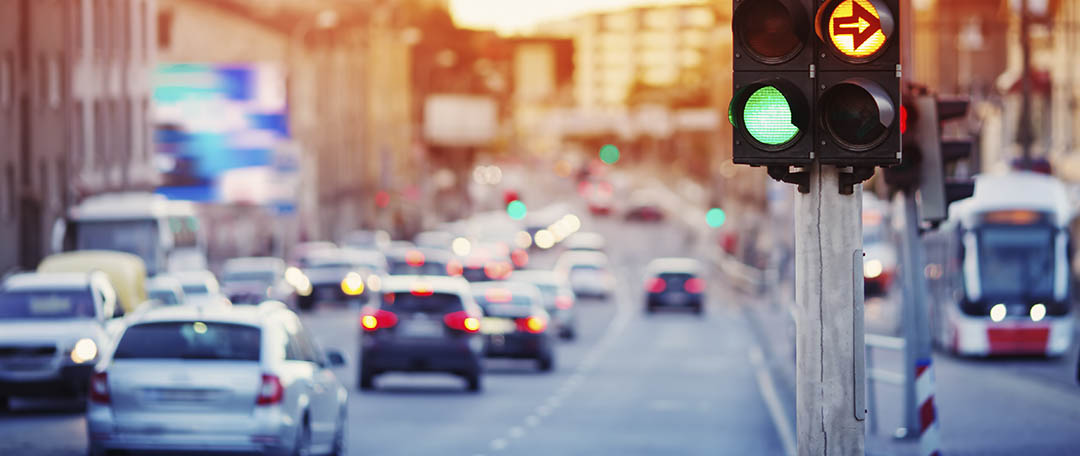 Traffic monitoring
This camera works great also for traffic monitoring, for detecting accidents or providing evidence for various law enforcement cases.
Specifications
Product main feature 1
Vandal-proof PTZ camera with 360° surveillance
Product main feature 2
Automatic object tracking, IP 66 protective case
Lens type
Varifocal, 5.7mm - 205.2mm
Product code(s)
ILB-340-SD
Resolution of sensor(s)
2560 × 1440
Field of view (FOV)
H: 51.1°-1.7°, V: 31.3°-1.0°
Wide dynamic range (WDR)
Digital
Sensor sensitivity
Day / Night / IR LED: 0.002 Lux / 0.0002 Lux / 0 Lux
Frame rate(s)
25fps - 30fps
IR illumination distance
200m (656 ft)
Intelligent image quality correction
3D digital noise reduction, Backlight compensation, High light compensation, Digital image processing (mist-, smog-, smoke filter), Digital image stabilization, Automatically tracking manually selected objects, Digital WDR
Smart tracking
Automatic tracking of moving objects
Onboard detectors
Sabotage detection, Motion detection for recording, 1x Line crossing detection, 1x Intrusion detection
PTZ movement range
360° (endless)
Number of PTZ presets
300
Output data format
H.264, H.265, MJPEG (only on secondary stream)
Video management software
IVS 4
Compatibility
ONVIF Profile S
Communication
Ethernet (10BaseT/100BaseTX), RJ-45
Power requirement
24V AC, Hi-POE
Power consumption
Max. 60W
Operating temperature
-40°C - +65°C (-40°F - +149°F)
Impact protection
IK 10, TVS 2000V Lightning Protection, Surge- and voltage transient protection
Regulatory
CE (EMC), EU WEEE, REACH & RoHS Directive
Dimensions
266.6mm x 410mm (10.5" x 16.14")
See more
Request information
AR_INTELLIO_QUICK_VIEW_PTZ_CAMERA
Ez a form a termékekhez. Minden terméknél a preferred product type-ot fix értékkel egy hidden mezőben el kell helyezni. Az Aktív form nevek kezdődjenek így: AR_PRODUCT_(product név)